Karen Nagano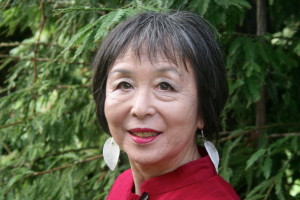 Artist Karen Nagano's singular gift is the ability to connect with the essence of her subject, whether it is in her unique PORTRAITSCAPES that depict the scope of a person's inner and outer life, her garden and nature drawings, her work from The World of Lady M, her paintings of children and family life, abstract emotional concepts or her representations of Buddhas and sacred winged beings. The ability to connect characterizes her relationship with the materials of her art making: the paints, pencils, charcoal, the paper, canvas and other materials that find their way into her art.
This ability to connect lies at the core of Karen's strength as a teacher. She connects with each individual's inclinations, feelings, point-of-view and talents, and creates a safe place to explore and bring them forward. This, coupled with her formal and technical training as a painter, draftsman, printer and in mixed mediums, makes her a vibrant, rich resource and support for all who work with her. One of her former students at Monterey Peninsula College said, "I did the best work of my life working with Karen."
Karen Nagano's journey as an artist began in childhood. Drawing, painting and making objects and figures from the clay soil of the family farm formed the core of her days and the foundation for her ability to process and understand her experiences. Her art activities were the outlet for her imagination which was ceaselessly conjuring from inner images and the wealth of visual beauty around her.
Her artistic talent was recognized and encouraged throughout her elementary school years. Her high school art teacher, a skilled artist from the Art Students League in New York, nurtured her questing art spirit and fueled the dream that led her to major in Studio Art at Stanford University where she received BA.
During the reception for her first one person art exhibit, Karen received a call from her 5th grade teacher who still had a charcoal drawing of hers framed and displayed in her home. "I knew you had it in you way back then," she said. "Congratulations!"
Nagano's formal study at Stanford was augmented by time in Japan where she attended the Kofukai Art Institute in Tokyo and by classes at UC Berkeley and graduate study at UC Santa Barbara. Private tutorials in printmaking and papermaking broadened her skills.
Karen Nagano taught painting, printmaking, drawing and art materials at Monterey Peninsula College; Hartnell College in Salinas, CA; Carmel Adult School; and private workshops. She has exhibited throughout California and in Europe. Her work has been included in juried shows at the Crocker Museum, Sacramento; Santa Barbara City College; Monterey Museum of Art; San Diego Museum of Art; the Steinbeck Center, Salinas, CA as well as other group exhibits in venues such as the Cal State LA Gallery; Gabilan College Gallery, Gilroy, CA; Tager Gallery, Santa Cruz, CA; SOMA Gallery, San Francisco; Matrix Gallery, Sacramento, CA. Among Karen's one person exhibits are include at the Carl Cherry Center, Carmel; Monterey Museum of Art; Carmel Art Association; Tager Gallery, Santa Cruz; Ankrum Gallery, LA; Hartnell College Gallery, Salinas, CA; Santa Catalina Gallery, Monterey, CA, Galerie Neue Kunst, Wil, Switzerland.
Karen's work is included in the following collections: Community Hospital of the Monterey Peninsula; Monterey Symphony; Monterey Museum of Art; Anne Fitzpatrick; William Hyland; David Benoit Family, Kent Nagano, Lynne Toribara, Lee Ann Huntington, Nagano Young Family, Steve Baker & Robert Pucci, Alice Angel Green, Pauline Grant. Here are a few of the comments made by people who own a Karen Nagano: The subject of a large scale portrait said, "Because of that painting, everyone sees me. Without it, no one would know I'm here." The owner of three Nagano charcoal garden drawings commented, "The drawings take me to a peaceful place I do not know how to create on my own." These are the words of a musician and composer, "Being surrounded by Karen's work gives me the beauty and energies of inspiration and creativity I need to sustain my creative work."
Karen is excited about bringing the breadth and depth of her experience in creating, teaching, and cultivating and sustaining her own creative path and vision to Open Gate Creative Getaways' participants. "I love the opportunity to work in partnership with people in a beautiful, inspiring setting, in a small group that allows meaningful, ongoing dialogue and art making that can touch the deepest wells of personal creativity and vision. As I help others grow and deepen creatively, I grow and develop creatively also. It's a beautiful, synergistic relationship that I look forward to experiencing with you."
Rick Deragon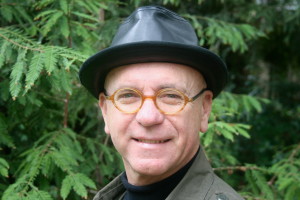 "I am a painter, writer, and teacher," says Rick Deragon, "and I get to explore art in the studio, on the printed page and in the classroom. In all these activities, I hope to perpetuate the sacred nature of art. That is the most important thing."
Rick Deragon has the ability to view landscapes in ways that bring the viewer into an intimate relationship with the land, sky and history of the place. His is not the grandiose, postcard view but the view of one whose feet touch the earth, of one who moves on the earth through the contemplative paths of discovery. It's a quiet path, free of bombast and declamation. His paintings are an invitation to join him as a fellow traveler, the seeker of the delightful, unexpected view, to join him in experiencing the belonging that comes from the deep experience of nature, of place.
His landscapes of Steinbeck Country in Monterey County have resonated with many collectors who comment on the truth in forms and the sense of place captured. Foothills and river, big sky and furrowed fields recall for viewers the raw strength and magnitude of the Salinas Valley and environs.
Rick's new body of work, Chronicle, steps out from the western landscape into a landscape of both familiar earth and human history. His investigations now involve not just the mere touch of feet on geological formation, natural history, and the traces of human habitation, rather, he dives below the surface into the strata of human origins embedded in geological time. We stand side by side as he unearths ancient symbols and signs—voices of the distant past—as he intuits and uncovers myths that link us to our most early forebears.
In forging this visual, spiritual link to our ancestors, Rick affirms our continuing quest for meaning and purpose, our relationship to natural forces and Nature herself seen in our contemporary lives.
He establishes a continuum of both mystery and familiarity that draws us into our own hearts' quest for answers to our human questions: Why are we here? Where are we going? Where do we belong?
In asking these questions, giving form to them, we are able to join the artist shoulder to shoulder, and experience the continuity and comradeship of our shared collective life and yearnings that transcend time and place, and are inextricably entwined with time and earth. In contemplating the Chronicle series, we find a belonging, a sense of home.
As the art critic for the Monterey Herald, Rick recreated in words the spell of paintings, sculpture and photography so that readers would not only be informed of what exhibitions were to be seen, but what ineffable magic might be encountered. Noted photographer Horace Bristol, who with John Steinbeck visited the migrant farmworkers to document their plight for Life magazine during the Great Depression, wrote to Rick on the occasion of a retrospective of his photography, "I thought it extremely well-written and accurate…my wife, too, felt it to be exceptionally well-done, and she is more critical than anyone else about publicity for me."
Currently, Rick brings his passion to Notre Dame de Namur University in Belmont, California, where his studio, design, and Writing About Art classes expose students to art from throughout history, spark interest in both traditional and cutting-edge methods, and refine student skills for cogent expression in both visual and written language.
Rick loves to challenge students, especially when it comes to taking chances in order to find their voice. Melding conventional exercises in drawing and composition with challenging, unconventional topics, Rick prompts students to delve into unexplored technical or thematic areas to produce strong and surprising work.
"He took my art to the next level by giving me assignments that he knew I would specifically enjoy," says a former student, "He would come to class with lists of artists that I could study and become inspired by. He has taught me that I can always strive to be better. Every time I completed one of his assignments I found myself becoming a better artist."
Recognizing the range of ability in any class setting, Rick enjoys making adjustments to bring the lesson to the individual's level.
According to another former student, "Professor Deragon is so supportive and understanding of different people's abilities and strengths or weaknesses. Every student was given the same treatment but he would tailor assignments to each person in ways that he knew would make the student a better artist. Every single person left with a new knowledge of art history and drawing technique."
"Art," says Rick, "reaffirms our humanity. It reasserts our presence in a complex, if not hostile, world, and has the power to transform experience into an extraordinary moment of insight."